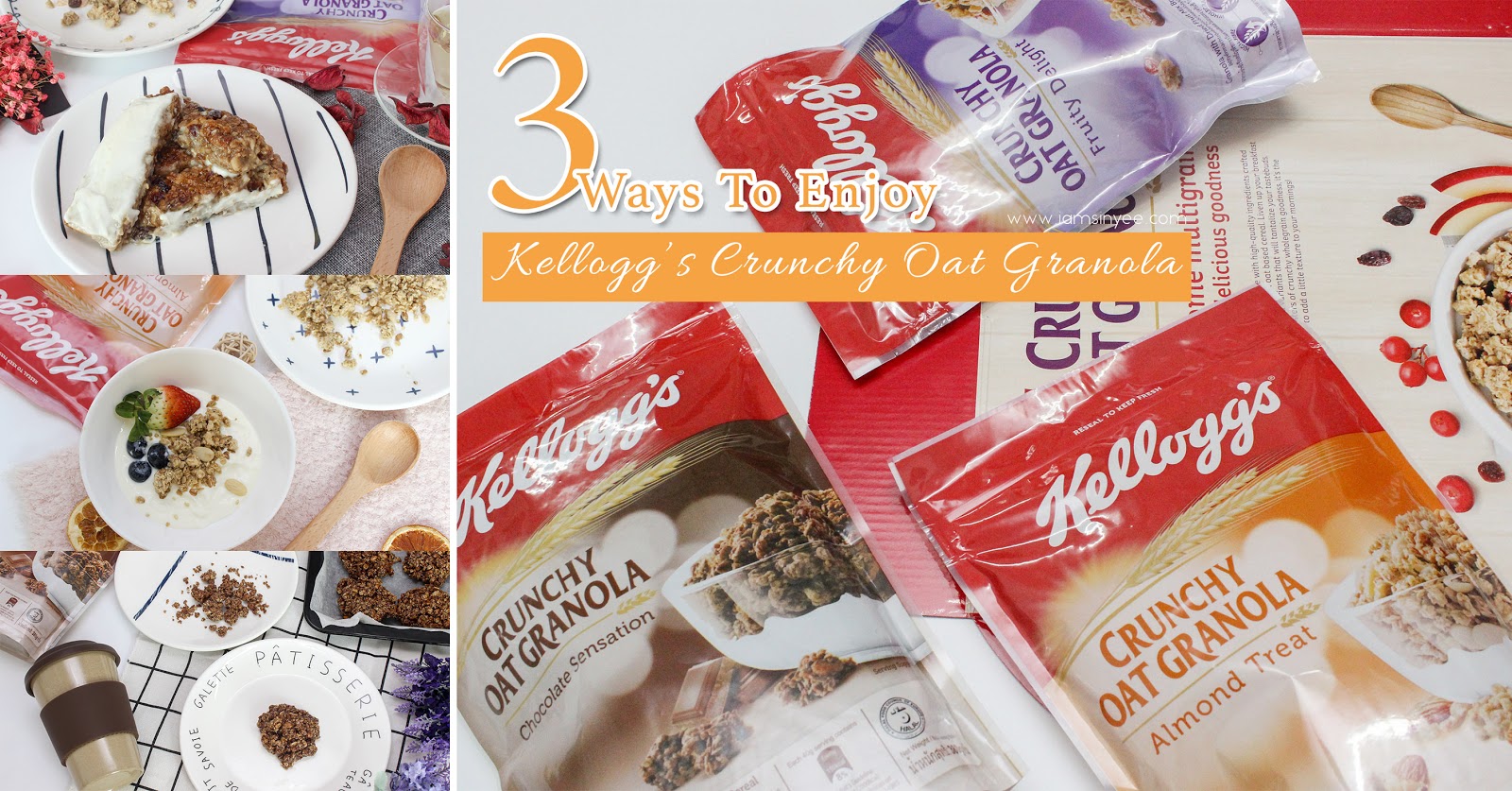 Some of my friends have noticed that I have changed my eating habit much healthier compared to previous. Yeah, I am trying to eat cleaner and only take real food when I can. So here I am to share you my recent favorite – Kellogg's Crunchy Oat Granola. Besides than having it as breakfast, I also have it as my snack during evening or night too. Yeah, I can't help but eat even after my main meal. So, a healthy snack is absolutely a better choice than junk food.
Kellogg's Crunchy Oat Granola
Kellogg's Crunchy Oat Granola is made with the goodness of whole grains, it unlocks healthy well-preserved nutrients such as protein and fiber in one pack. This crunchy oat granola is crafted and baked to perfection, it tastes naturally sweet and delightful. 
Moreover, Kellogg's Crunchy Oat Granola comes in 3 flavors:
1. Almond Treat – Offers a nut (almond halves) variant for the nut lovers.
2. Fruity Delight – Offers multiple fruit inclusions including raisins, apples and cranberries.
3. Chocolate Sensation – Made from delicious Belgian chocolates, exclusively for those who can't resist chocolates (just like me!!)
Okay~ Without further ado, let's check out how I enjoy Kellogg's Crunchy Oat Granola!
#1: Granola with Greek Yogurt & Fruits
A very classic way to have granola as breakfast. As the Kellogg's Crunchy Oat Granola is naturally sweet, I didn't add honey for sweetness. Since I will add fruits myself, I prefer to have the nuts version when having granola with greek yogurt.
#2: Granola Yogurt Bar
I am sure you have seen some yogurt bars are sold in the grocery. I love them much. However, for a pack of 6 yogurt bars, it costs about the same (or some is more expensive) with a pack of pure granola (which I can make about 12 or more yogurt bars myself). Hence, I made my own granola yogurt bar with a pack of 380g Kellogg Fruity Granola and dip them with greek yogurt.
#3: No-Baked Granola Cookies
As a chocolate lover, the chocolate granola is my favorite. However, I feel awkward to have it with yogurt. So, I decided to make cookies! You don't have to use an hour to bake, but only add honey and brown sugar to make to oat and granola stick together. Freeze for 2 hours, your no-baked granola cookies are ready to serve!
Here are my way to enjoy healthy treats. Well, you can think your own ways to enjoy. Hope you love these. 🙂
More info, check: