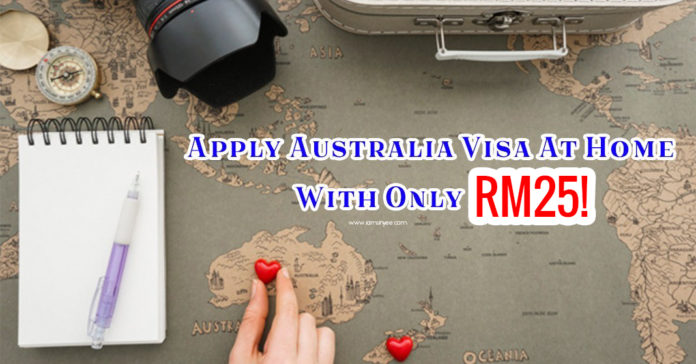 Update 8 April 2020: Latest news from iAdventure, the charge is RM25/pax!
Update 3 May 2018: I just came back from Adelaide, Australia on 1 May. Applied visa from this website again, it is RM25/pax. Enterring smoothly with the ETA. No any question from the immigration officer. Please go ahead and apply.
BTW, website interface has changed but still easy to use. Happy holiday!
Update 29 Aug  2017:
Nur, a reader on this blog post mentioned she walked-in to apply 9 pax's visa. You may check her comment below. She provided the full address and website of the travel agent (which is also the one I have introduced here). For those who worry the website is a scam, please walk-in and get it done at the office. Price is same, RM25/pax.
**For whom would like to know where to check your visa validity, I apologise that I do not know any. You may ask Mr. Google for assistance.
Update 11 Aug 2017:
A friend of mine has visited Perth this early July. She applied through the website I introduced here. No issue going in and coming out from Australia. Still the same answer, if you are worrying this is a scam,
DO NOT
apply!
Update 9 Jun 2017:
These 2 years, I have received tons of comments and IMs, as well as email asking me is this a scam? My answer is still the same!!!! For me, this is NOT a scam!!!!! Again, I would like to highlight the following:
1. This is
NOT
an advertorial post. I share my personal experience how I apply my visa to AUS.
2. Commentors who asked if this is a scam under this post have no update if they have issue even though I tried to follow-up. So, I can only assume they do not have issue.
3.
No
complaint/feedback at all from readers telling me, they couldn't enter AUS after applying visa through the agent. The only feedback I have gotten is the application fee has increased from RM20 to RM25 now.
4.
DO NOT
apply, if you really worry and think this is a scam. As said, I didn't face any issue to enter AUS, and no feedback saying they couldn't enter AUS. So, if you do not trust it, DO NOT apply. Head to the Embassy and apply it is the safest way.
If you encounter any problem to enter AUS because of the visa is not valid, please please please let me know so I can update here and avoid others to apply through the agent in future. 
Update 21 Nov 2015: Received emails, IMs and comments, possibly you are also worried if this company is valid. FYI, I went in Perth on 14 Nov and return to KL on 20 Nov. No issue happened. So, go ahead reading the guide below on applying Australia Visa with only RM20! If you still need helps, do not hesitate to shot me a message!
Despite of weak currency, we still love travelling. I have booked tickets to Perth, Australia which will be in the coming November. In this post, I am going to show you how to apply Australia Visa at home. Guess what? It is only RM20 RM25!
It is not the first time I will be travelling to Australia; however, the first time to settle visa myself. I have been asking around on how my friends apply. One of them applied via walk-in. Another one applied via online. Googled it and found iAdventure Escape Travel. I was shocked that it is only RM20/person! Remember my parents paid RM50 last time and I checked the embassy website saying to have AUD150. It is unbelievable cheap! I admit I thought it was a scam; so checked their review and also WhatsApp for inquiry. Finally, I decided to take it. Below are steps to apply Australia Visa at home.
Step 2: Click "Menu" and click "Online Application"
Step 3: Fill in your details. Make sure all are correct before submitting. Click "Submit ETA" at bottom. **Date format is DD-MM-YYYY
Step 4: After submitting, the website will direct you to "Payment Details". You can choose to bank transfer/pay via paypal/pay via credit card. Pay with your preferred method. You must send your payment details to the agency's email at eta@iae.my. 
Step 5: Wait for your visa approval. I received mine within half day. Meanwhile, my parents' received within an hour upon payment!
Hope this simple guide help the miserable one. I have compared few agencies, iAdventure Escape Travel is the cheapest! Their response was fast too when I asked them questions. If you are going to Australia or you know one who is going to Australia, don't forget to share them the awesome news of applying Australia Visa in such a cheap price.
Find/Follow iAdeventure Travel Escape at:
Address: Level-8.03, Menara TA One, 22, Jalan P. Ramlee, 50250 Kuala Lumpur.  
Tel: +603-2164 5555 / +603-2788 4890
WhatsApp: 012-222 3800
Fax: +603-2181 8481
Email: eta@iae.my