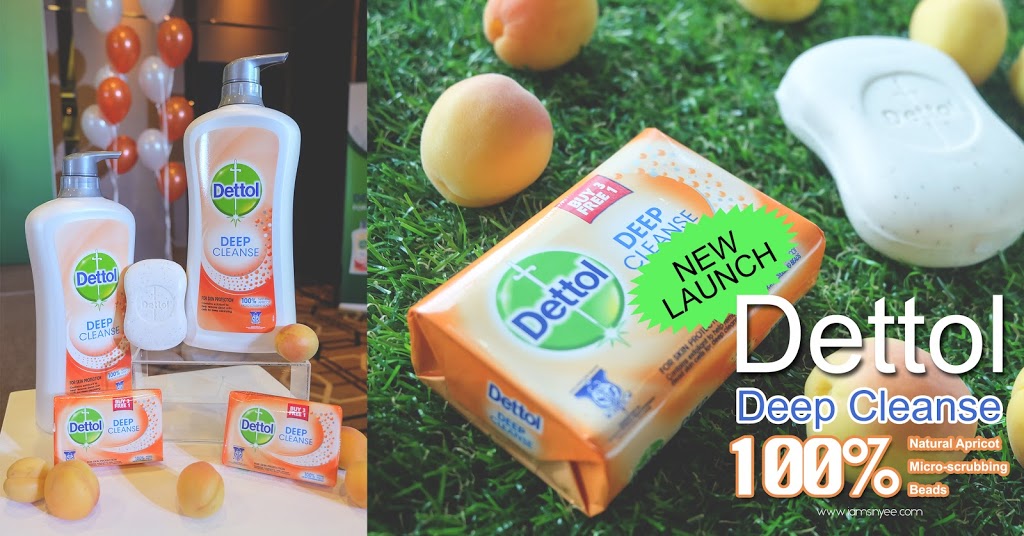 I am sure everyone knows Dettol. Dettol is the world's well-known antiseptic brand and a trusted champion of family health. Being a Dettol user since young, I am glad to be part of the launch of their new range – the Dettol Deep Cleanse range!
Believe it or not, we all live in the environment that exposes our skin to dirt, dust, grime, sweat, and many more germs that may lead to skin problem. I am not talking about skin cancer, but at least potential one like rashes, body acne. Thus, this latest variant of Dettol contains exfoliants to help remove dead skin cells for deep cleansing which promote skin health.
Just like our face, we do scrubbing regularly to remove dead skin cells. Some people do have regular body scrub treatment too. However, compare to face, I am sure people care less on body scrubbing. Hence, with Dettol Deep Cleanse range, you can do it everyday. Oh ya~~ Forgot to mention, this range is made of 100% natural apricot micro-scrubbing beads, just like quite a lot of face wash are made of.

This series is available in both body wash and bar soap. The functions are same, they are just in different form. The result is refreshingly fragrant formula that cleanses deep into skin pores, at the same time, enhance the moisture level.

Well, I am always suffering from body acne and rashes. And also, I can clearly see my pores are clogged. When I extract them, they are like the blackheads on nose. I am so excited to know that Dettol has come out with such a great series, for people who really need deep cleanse like me, this is not only for germ protection, but also for skin benefits!

During the launch, there was a sharing session with Dr. Abrizah Ousman (Dermatologist & Aesthetic Physician), Nana Mahazan (TV Host), Nur Aisyah a.k.a Cupcake Aisyah (Social Media Influencer). They shared about their professional opinion and personal experience of this Deep Cleanse range.


Dettol Deep Cleanse Body Wash is now available at all major pharmacies and supermarkets. The size choices include 225ml at RM6.90 and 850ml at RM20.25. The 800ml refill pack is priced at RM15.67. Alternatively, the Dettol Deep Cleanse Bar Soap retails at RM10.45 for 105g (comes in packs of 3+1).
More info/update, find/follow:
Website: http://www.dettol.com.my
Facebook: Dettol Malaysia