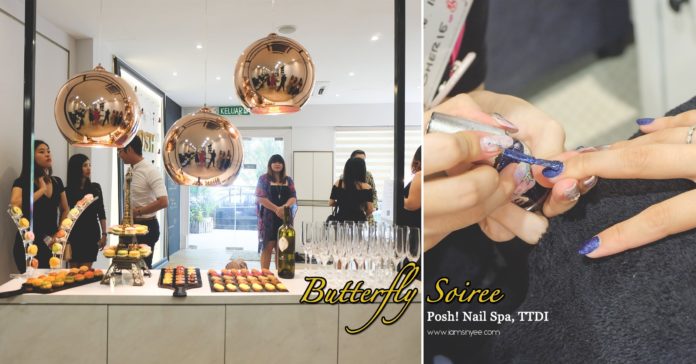 Everyone has their "behind-the-scene" story to achieve what they are today. Me? Yeah, of course! If you have been following me since i first started to blog, you will definitely see much changes I have. I am a lady who never think I will be an enterpreneur today. I started my first job working as HR officer. At that moment, I truly think I will work in this industry until I retire. But wow! Guess what? I am working in the digital marketing field now, becoming a freelance writer and doing well in my blogging career. A lot of hard works have been done in order to change my life so dramatic. Maybe you think it is not a big change, but me, that is huge! Thank you The Butterfly Project for the invitation to Butterfly Soiree at Posh! Nail Spa, TTDI. This is a party to reward the ladies, who have paid their effort to achieve their status today. I am glad to have a chance meeting these ladies~
I guess if you are in KL and you love manicure and pedicure, Posh! Nail Spa isn't a name you are not familiar with. I have heard of them and even tried their service too. I remember their pink themed nail saloon. And now, Posh! Nail Spa @ TTDI changes a new clothes, more like a mature and classy place, where every lady is deserved being a queen!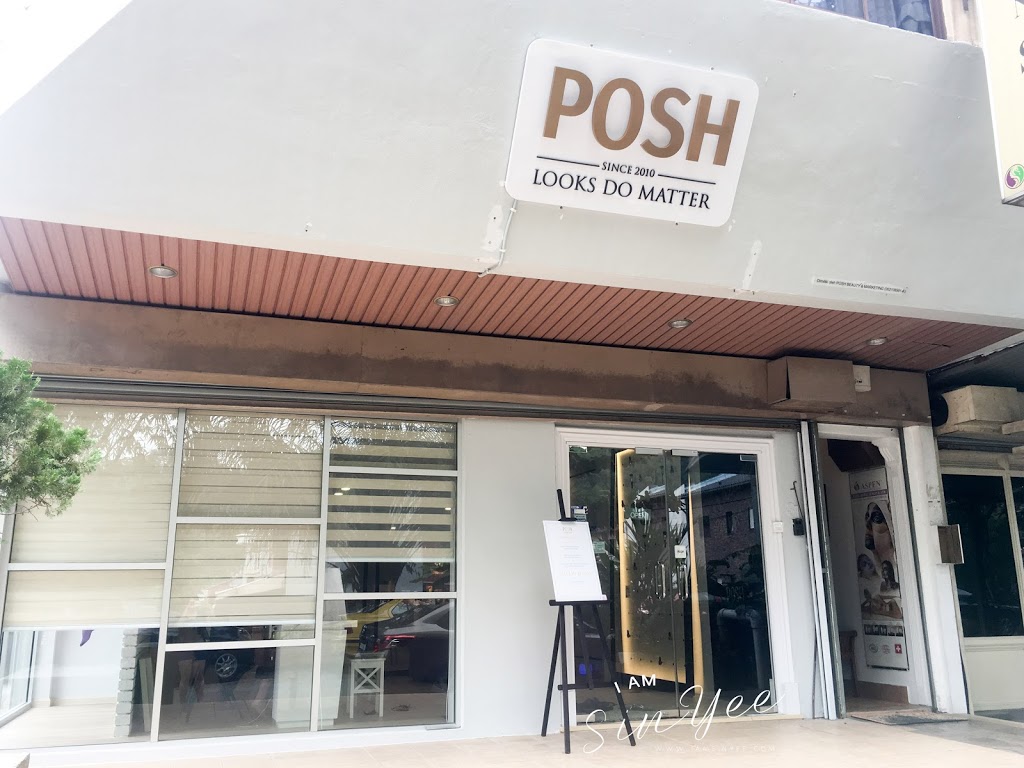 Well, the change doesn't come for no reason. Guess what? Posh! Nail Spa has come to their 7th anniversary. Like I said, everyone has their story to success. So do the team of Posh! Nail Spa. From one outlet to four outlets, I am sure Posh! Nail Spa has gone through a lot~ This is an upgrade of their service and status in the industry. Now, besides nail services, Posh! Nail Spa also provide bridal make up service. And, if you are a soon-to-be bride, who is planning to have a hens party, Posh! Nail Spa is a perfect place for you! You can book the place for nail services with your besties; afterward, enjoy your last single day here with food and wine~
**Whispering** I am thinking to have mine at Posh! Nail Spa now. As some of you know I am engaged one month ago; now, I am planning my wedding.
Talking about food and wine, I would have to mention the another two partners of Butterfly Soiree – La Rose Noire and Wine Talk. La Rose Noire is a chain of Swiss bakery. It serves patisserie made of premium ingredients. In Malaysia, you can grab these heavenly delicious patisserie from Pastry Pro. Well, they do not have a physical bakery to sell these patisseries, they are more likely a hotel dessert supplier. However, you are welcome to contact them if you want to have them in your private party.  Again, I thought of my own wedding party next year, planned to have them for my light refreshment. Meanwhile, if you are a fan of wine, I am sure you know about Wine Talk. They are the largest online wine shop in Malaysia. Sometimes, they will have exclusive promotion for the members. On the event day, we have tried the Mascato sponsored by Wine Talk. Personally, still prefer a glass of stingy and not to sweet kind of wine, Mascato seems to be slightly sweet for me.
Of course, while enjoying the food and wine, we ladies wouldn't forget to pamper ourselves with nail service by the manicurists of Posh Nail Spa. I have done my express manicure and pedicure because there were too many of us. We just did a quick one first on that day.
Apart from OPI, Posh! Nail Spa also has other nail polish brand. They aim to educate the customers there are still a lot of brand other than the classic OPI we all know about. The colors are nice and sweet, quality is good too!

Again, thanks The Butterfly Project and Posh! Nail Spa for the invite. Also, thanks La Rose Noire and Wine Talk for the tasty food and drink! I enjoyed myself in the party, not only because of the service and F&B, but also a chance to meet more people!

Find/follow:
The Butterfly Project
Facebook: The Butterfly Project
Instagram: @butterflyproject.my
Posh! Nail Spa
Outlets: TTDI | SS2 | Damansara Heights | Nu Sentral
Website: http://www.poshnailspa.my
Facebook: Posh! Nail Spa
Instagram: @poshnailspa.my
La Rose Noire
Website: http://pastrypro.com.my
Tel: 03 – 6272 1155
Wine Talk
Website: https://www.winetalk.com.my
Facebook: Wine Talk Malaysia
BTW, I have returned Posh! Nail Spa to have gel manicure with nail arts few days ago. Seriously, I love this much! Sweet color with flowers nail art. What do you think?