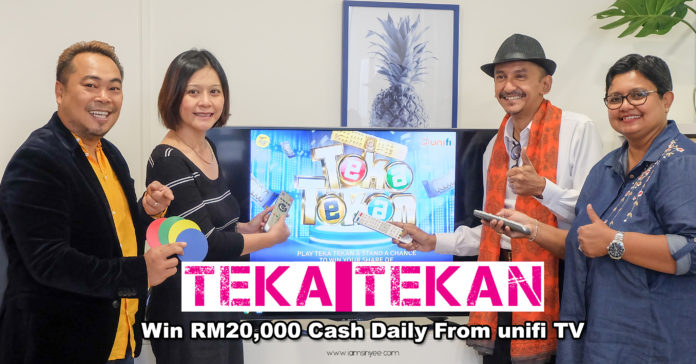 Did you know Hypp TV is recently being rebranded as unifi TV? If you don't, never mind. Now you know it. In conjunction with this rebranding, unifi TV has come out with Malaysia's 1st Live Interative Game Show – "TEKA-TEKAN", which you can walk away with RM20,000 cash daily! Yes! It's daily!!! You can get RM20K cash by guessing and click (wich "teka" and "tekan" means in Malay).
The gameshow is open to all unifi TV subscribers, where they can win by tuning in to the show on HyppSensasi HD (Channel 116) every Mondays' to Fridays' night. If you are one of the unifi TV subscribers, all you need to do is grab your unifi TV's remote control and answer five (5) questions during the live game show by pressing the # button and then the corresponding colored button on their remote control for the answers.
With daily cash prizes of up to RM20,000 to be won, that's a whopping RM100,000 every week!
NOTE: You must get all 5 correct answers, in order to walk away with the cash!
If no one win away the RM20k cash on the day, it will accumulated till the next day, which makes it RM40k to win. Or, if there are few winners on the same day, the cash will be equally divided to all the winners. Sharing is caring right? Just keep on joining, you can win more cash!
To make it even livelier, the game show will be hosted by four (4) local celebrities namely Acong Sweet Child, Farouk Hussein, Shuib Sepahtu and Anas Ridzuan. TEKA TEKAN is also brought to you by Huawei, as the sponsor for this first ever LIVE interactive gameshow. More info on TEKA TEKAN can be found at tekatekan.unifi.com.my.
unifi TV subscribers, win yourself cash from today onwards on HyppSensasi (Channel 116)! If you are not a unifi TV subscriber, be one of them now to win cash!