No matter you are a buyer, a tenant, a seller, a property agent or a person who simply just want to read something.. Here I have a brand new app that I find interesting to share with you all~ This is the 1st property app in Malaysia, which it helps matching anyone I mentioned in your fingertups. It is called TaskZon.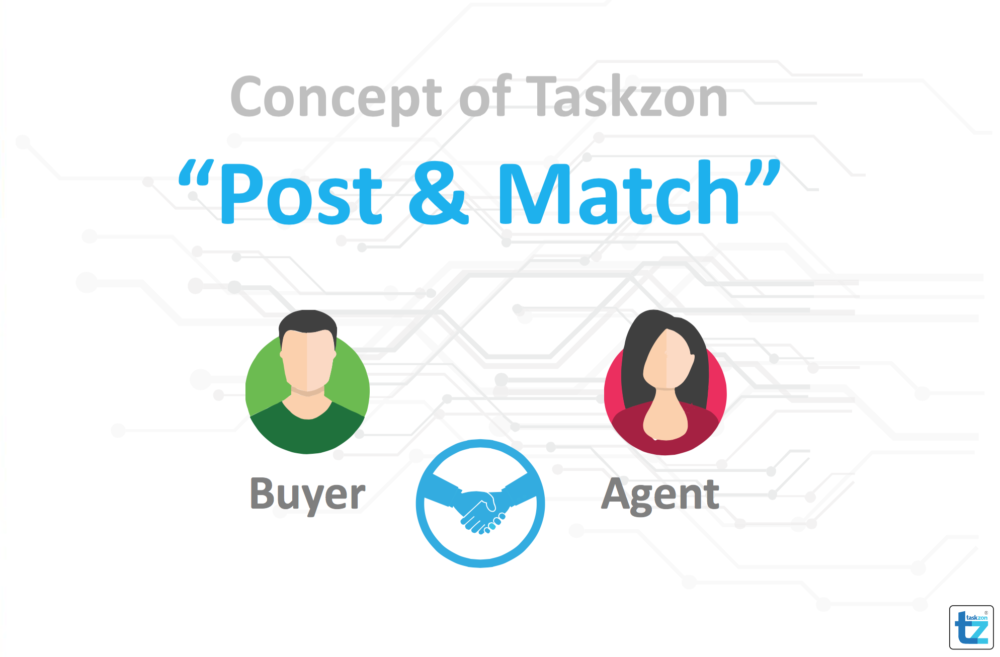 TaskZon
TaskZon is a company that builds upon the dream to simplify the interaction between agents and buyers. A better and easier understanding of this property app is that, if you want to find a house/sell a house/rent a house, just type in your requirement, TaskZon will help connecting you with agents who have houses that suit you or who that can help you to get a buyer to buy your property. Just like you are taking Grab/Uber, you insert your location and destination, the app will help finding the drivers nearby.
Why Should Buyer/Tenant/Owner Use TaskZon?
1.

NO

Keep scrolling and scrolling on the property websites like no ending..
I personally has bought my property two years back. I know the pain to look for my dream house one by one, by clicking on those property websites. Seriously, at the end, you can't find anything because most details are not disclosed and you need to contact the agent to further knowing the details. By using TaskZon, you just fill in your requirement, post it, and TaskZon will notify agents who meet your requirements.
2.

NO

more sharing your contact details publicly
As you couldn't find your ideal property, you gotta leave your details so agents or who are letting go/renting out their property can find you. I did that too. Leave details on Facebook group/sign up Google form, etc. And that's not the end. Almost everyday, I get spammed by agents who I never leave comment on contact me, by email, by sms, etc., asking if I want this or that (which doesn't not fit my requirement). With TaskZon, your contact details will no be shared, unless both parties accept to further discuss. Actually, you don't even need to leave your contact details as TaskZon has built in messaging function for your convienence.
3.

NO

finding buyer/agent yourself
This is more for the property owner~ Unless you know a property agent in person, else you may have to find agent to help you find buyer. Or if you want to find buyer yourself, it seriously not an easy job. Somemore, most property listing websites impose charge to post listing. And you have no idea if this is really working. With TaskZon, just fill in your details, the app will connect you with agents who have potential buyers in your area. Or even if you are looking for tenant, TaskZon helps you connect with agents who have potential tenants in hand.
4. It's

FREE
Yes! It's free~ Just register and use it to find your ideal property!
Why Should Property Agent Use TaskZon?
1.

NO

marketing cost from your side
Well, I am not a property agent. But I do know how a property agent market themselves and find buyer/tenant. Cold calling, roadside banner, content marketing, email blasting, and more. These all need a very high costing, before you can earn something. If you couldn't find a buyer, you earn nothing. Besides, when they do cold calling and email blasting, don't they know people will get annoyed? Well, who like to be a spammer to keep blasting emails to "potential" buyer/tenant, call "potential" buyer/tenant telling the same details again and again? But that's a agent's job.
At the end, some get scolded or some get phone hunged up, more and more.. With TaskZon, you are not the one to initiate the buying/renting procedure, the quality potential one will find you because TaskZon has filtered them and blast to you. So basically do not have to market yourself, TaskZon is doing it for you.
2. Another income for agent:

Co-Agency
Agent A has a buyer who want to buy a house in Subang (for instance), yet, you do not have because your area is Ampang. Meanwhile, Agent B has property in Subang, but no buyer. By using TaskZon, Agent A and Agent B connect in Co-Agency section, and share profit because they can sell the property together. Why need competition when you can gain EXTRA benefits together?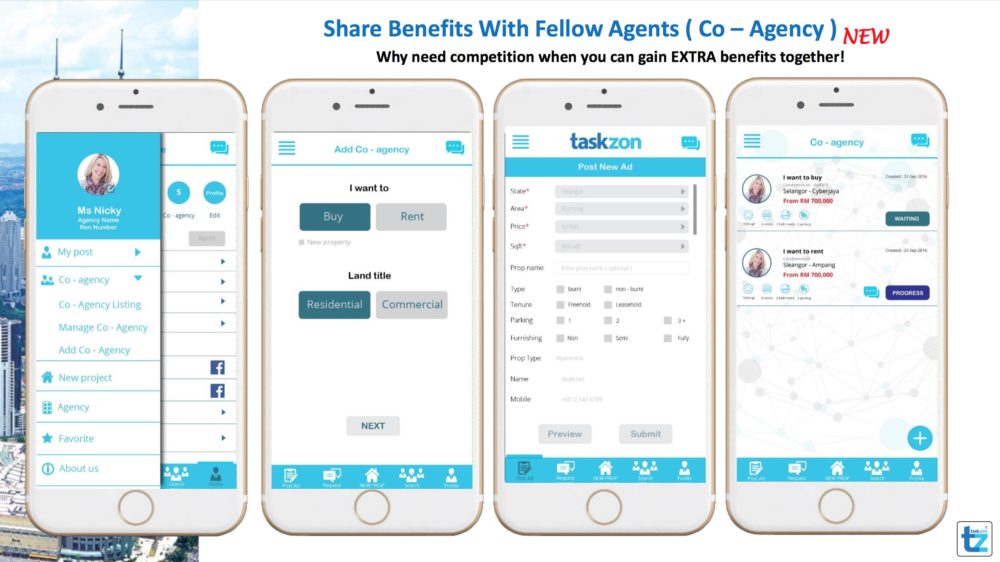 3.

Affordable

membership, no hidden fee
Membership for agent is absolutely affordable. It's just RM288/year, and there is no hidden charge. You do not need to give any commission to TaskZon if you close a deal. If you want to consider it as a cost, well, I am sure it is the cheapest spending compare to other way~
Download TaskZon now in Google Play. It will also be available on Apple Store next month!