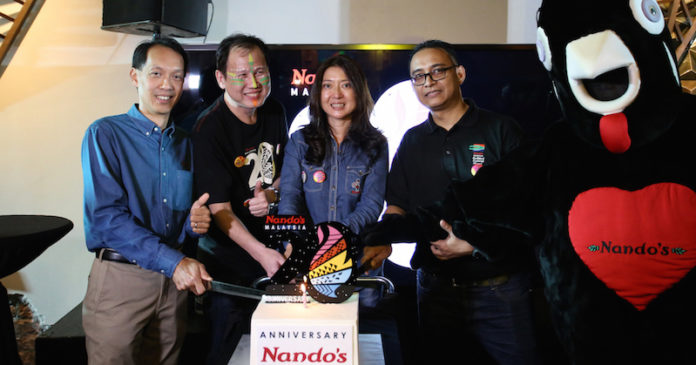 I believe everyone in Klang Valley know Nando's well. Guess what?! Nando's celebrates its 20th birthday this year! Wow! Congratulation~~~
From its humble beginnings in Jalan Telawi, , Nando's has grown to be a favourite amongst the flamed-grilled chicken enthusiasts locally. Sizzling the hearts of Malaysians with its trademark cheeky wit, out spoken humour and of course its glorious PERi-PERi sauce, the brand has not only introduced to Malaysians, really really good chicken, but a host of other delectable eats that keep them coming back for more.
As soon as the restaurant came to roost in Malaysia, Nando's signature PERi-PERi spread like wildfire as more and more people discovered just how delicious a little heat could be. Truly passionate about chillies, Nando's grows its own PERi-PERi chillies with the help of over 1,400 independent farmers in South Africa. Mixing these fiery little wonders with onions, oil, herbs, fresh lemons and a kick of garlic produces the brand's unparalleled secret weapon, the Nando's PERi-PERi sauce.
PERi-PERi Interesting Facts
PERi-PERi chillies are unique to Nando's
It takes 42,000 chillies to fill one 14kg bag and 25,000 bags are filled every year – that's over a billion chillies!
Each chilli plant produces about 300 chillies which are hand-picked and plucked one at a time
They are also hand-sorted and naturally dried in the African sun
PERi-PERi chillies contain capsaicin that delivers a 'feel-good' effect – your pupils will dilate and your metabolic rate will increase as you feel the rush of endorphins
PERi-PERi is also rich in Vitamins A, B and C
Putting flavour first and heat second, the Nando's PERi-PERi sauce is unlike the 'all-out-burn' of other chilli sauces. The chickens are marinated in the sauce for 24-hours and then basted with ones choice of heat level ranging from Lemon & Herb to the fiery Extra Hot.
The brand which has procured almost a cult status in Malaysia also have PERi-PERi sauces that fans can purchase for their home consumption, because sometimes, a dose of PERi-PERi is all one needs.
More info/update, find/follow:
Website: www.nandos.com
Facebook: Nando's
Instagram: nandosmy
Youtube: www.youtube.com/user/NandosMalaysia
Twitter: @NandosMY