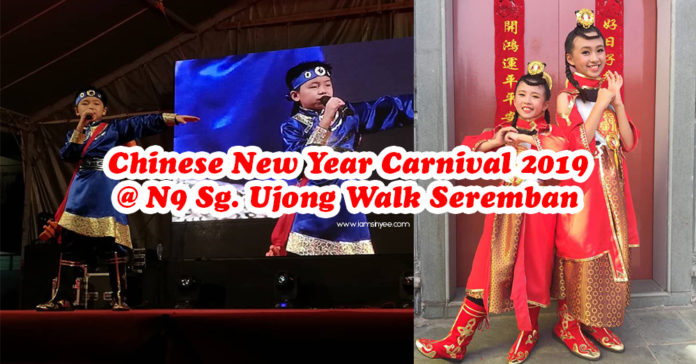 Hooray~~ Chinese New Year is 1 week away from now! Are you ready for the festive holiday? Time to meet and gather with long-time-no-see relatives and friends. And you can have delicious food that you can only find during CNY. Meanwhile, in Seremban, there is a Chinese New Year Carnival organised at N9 Sungei Ujong Walk, aimed to promote the culture of each origin such as Hokkien, Hainan, GuangXi etc.
The carnival has started since 26 Jan and will end on 3 Feb 2019. There are various performance – singing, dancing, taichi, crosstalk, cultural performance, as well as competition. You can join the carnival for all 9 days because the program is different every day.
For the coming 7th day of the Carnival (1 Feb 2019), there will be zumba and salsa performance to start the show. Following with few singing performance by societies and associations.
Besides, one of my favorite performance – Diabolo will also be performed during that night.
The carnival will never complete without food & beverage and shopping! You can grab a lot of food and snacks here. Or you can also do your last minute CNY shopping here too.
Come~ Let's join the Chinese New Year Carnival tonight! Or invite your friends/family to pay a visit to this 9-day carnival before it comes to an end~
Chinese New Year Carnival 2019
Date: 26 Jan 2019 – 3 Feb 2019
Time: 5.30pm – 10.30pm
Address: N9 Sungei Ujong Walk @ Seremban
Facebook: N9 Sg Ujong Walk 花城文化街