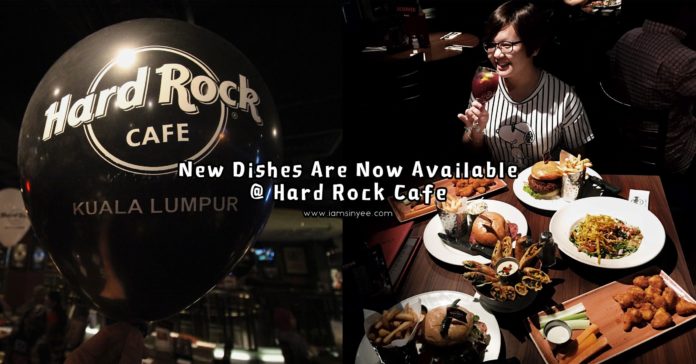 If you are a huge fan of Hard Rock Cafe, you probably have heard of their limited-time menu. Guess what? Because of you~~~ Hard Rock Cafe has now decided to give these dishes a permanent stay on their core menu!
I am sure everyone know about Hard Rock Cafe. With venues in 75 countries, including 176 cafes, 23 hotels and 10 casinos, Hard Rock International (HRI) is one of the most globally recognized companies. Beginning with an Eric Clapton guitar, Hard Rock owns the world's greatest collection of music memorabilia, which is displayed at its locations worldwide. The collection is so impressive, and of course, classic!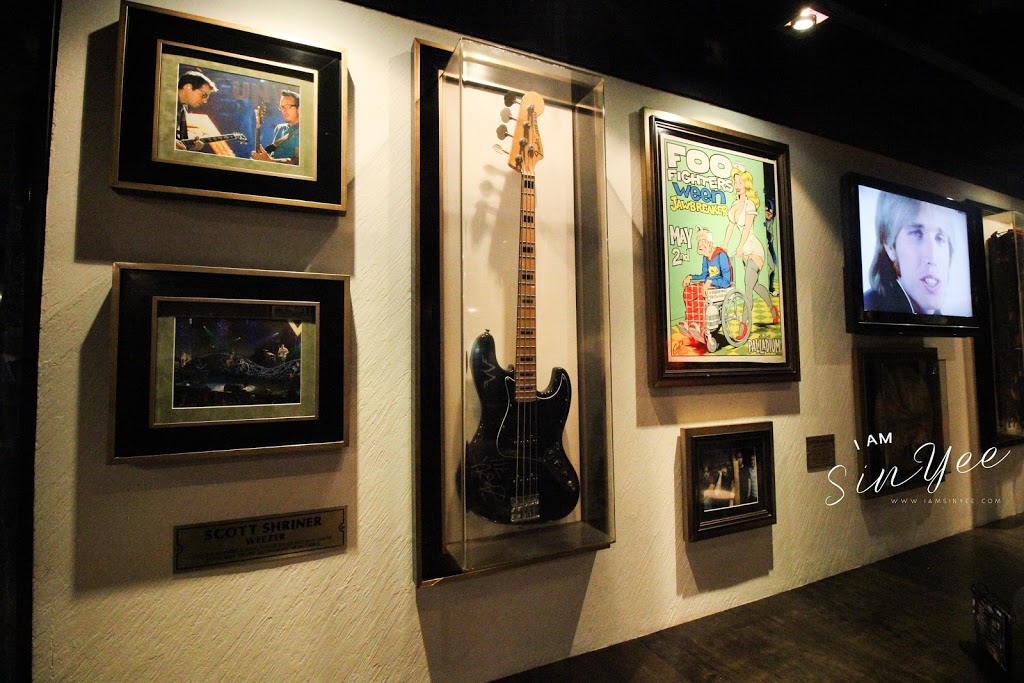 Well, as a rock-and-roll cafe, Hard Rock Cafe wouldn't complete without live band performance! So, don't miss out the performance if you are here~

Okay~ I know everyone is more concerning on what's the dishes. So, without further ado, let's check them out… In total, there are 11 dishes added into the core menu, from appertizer to dessert.
Starters

Southwest Spring Rolls

An assortment of Southwestern style spring roll, which is stuffed with spinach, black beans, corn, jalapenos and mixed cheese. Served with crispy shredded lettuce with a side of guacamole-chipotle ranch dressing, topped with diced red pepper and green onions.

Cauliflower "Wings"
Crispy Buffalo-style cauliflower served with bleu cheese, celery and carrot sticks. Believe it or not~ It looks completely like the classic Buffalo Chicken Wings, even the texture! If you can't take spicy; you can opt for the non-spicy version of Cauliflower "Wings".
Southern Salad
Greens and kale tossed in vinaigrette with vine-riped tomatoes. There are also turkey bacon, roasted corn, pecans and hard-boiled egg. Besides, this salad is topped with Southern fried chicken and drizzled with barbecue sauce. This is definitely my piece of cake. This salad is so appetizing; yet, you will stay full the whole night if you finish the entire plate yourself. Suitable for individual who opts for light dinner.
Haystack Chicken Salad

Fresh mixed greens, carrots, corn, diced tomatoes, pico de gallo (Mexican salsa fresca) and shredded cheese. This is Hard Rock Special which is also topped with tupelo fried or grilled chicken breast as well as spiced pecans and crisp tortilla straws. Compared to Southern Salad, this is absolutely more filling!

Burgers
Cauliflower Burger

Patty is heartfully made by in-house, with cauliflower, garlic, egg, goat cheese, oregano and breadcrumbs. Served together with a toasted bun, at the same time, topped with zucchini, squash, Monterey Jack Cheese, arugula, tomato and garlic aioli.
Serunding Burger
Prepared with local flavour and flair, this "Local Legendary" is unique in each Hard Rock Cafe. Wow~~ Sounds so special! To taste this, you would have to visit each Hard Rock Cafe~
Tropical Burger
Burger with Cheddar cheese is always mouth-watering. Tropical Burger has it too; meanwhile, it is made with grilled pineapple, jalapeno mango salsa, turkey bacon and arugula complimented with seasoned fries. The mango is the unriped type, which produces a mild sourish taste. If you love something that tasted sour, this will probably your favourite.
Atomic Burger
For the beef lover! Atomic Burger is made of beef patty, topped with spicy fried onions, fried jalapenos, Monterey Jack Cheese with arugula, vine-ripened tomato and Atomic Ketchup.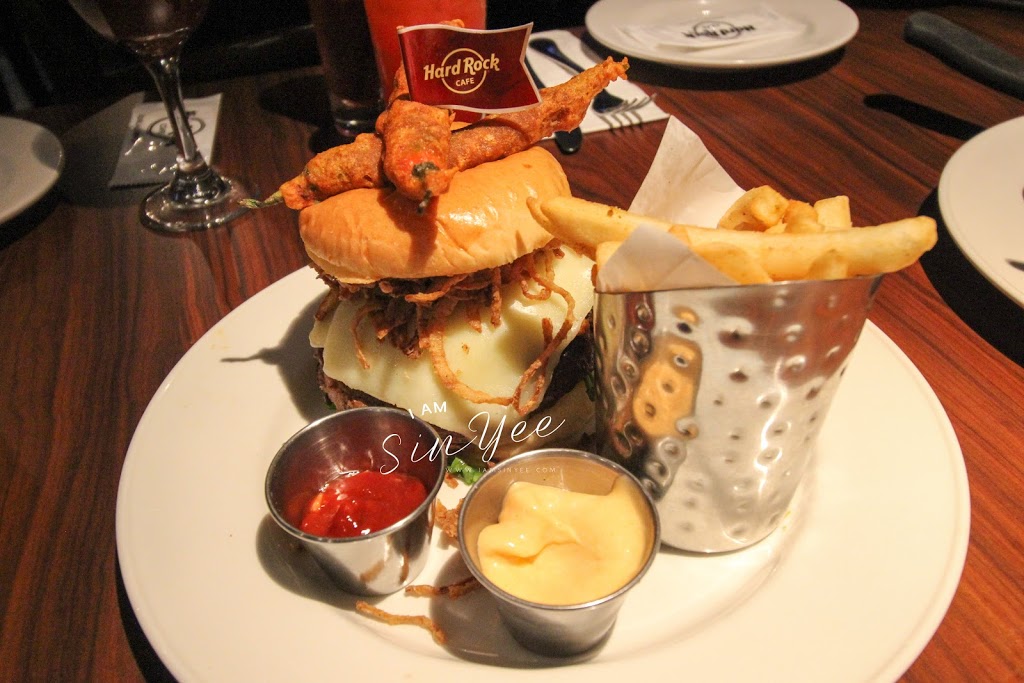 Java Lava Burger
Another burger made of beef patty. The patty is grilled and dressed in a house-made espresso rub. It is also topped with lava sauce, crunchy java onions, bacon, melted Cheddar cheese and garnished with a fried jalapeno. What a meaty burger yet savoury. I dare you to eat with the jalapeno!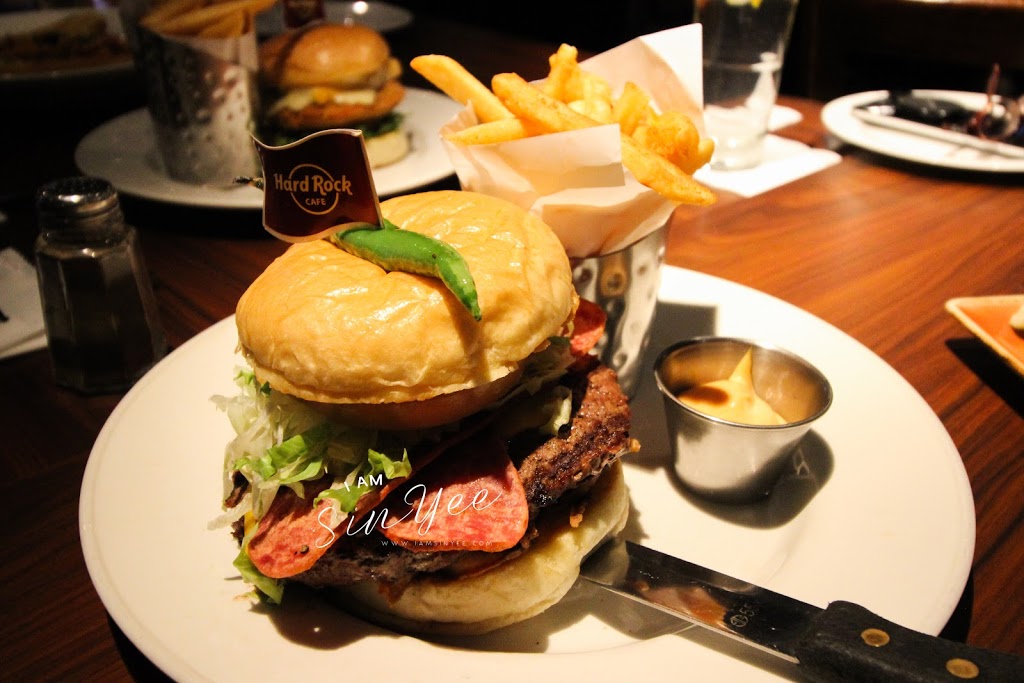 Wait~~ Not a fan of burger? Perhaps you could try out the following…
Pasta
Pasta Arrabbiata
Penne pasta tossed with a fresh tomato and garlic sauce with seasonal vegetables, fresh chili and olive oil. It is also served with oregano, Parmesan cheese and garlic toast. I am a fan of pasta. This is also one of my favorite of the night.
Dessert
Fresh Apple Cobbler

Thick, juicy apples mixed with the finest spices and backed until golden brown.  Moreover, it is served with vanilla ice cream, topped with caramel sauce, this fresh apple cobbler is so so so much savory!


I am sure you wish to have all these now after this. No worries~ As said, no more limited-time offer, these are the popular items which are added to Hard Rock Cafe's permanent menu. You can stop by Hard Rock Cafes in KL, Melaka and Kota Kinabalu to enjoy. BTW, don't forget to pair these delicacies with beers or cocktails!
Hard Rock Cafe
Kuala Lumpur
Address: Ground Floor, Wisma Concorde,
No 2, Jalan Sultan Ismail, 50250 Kuala Lumpur.
Tel: 03 – 2715 5555
Business Hours: Mon – Sun 11:30AM – TILL LATE
(Last Order at 10.30PM)
Melaka
Address: No. 28, Lorong Hang Jebat 75200, Melaka.
Tel: 06 – 292 5188
Business Hours: Sun – Thurs 11:30AM – 1:00AM |
Fri, Sat & Eve of Holidays 11.30AM – 2AM
(Kitchen Closes at 10:30PM)
Kota Kinabalu
Address: Unit G-26 / F-28, Oceanus Waterfront Mall,
Jalan Tun Fuad Stephens, 88000 Kota Kinabalu, Sabah.
Tel: 088 – 273 952
Business Hours: Sun – Thurs 11:30AM to 1.00AM |
Fri – Sat 11.30AM to 2.00AM