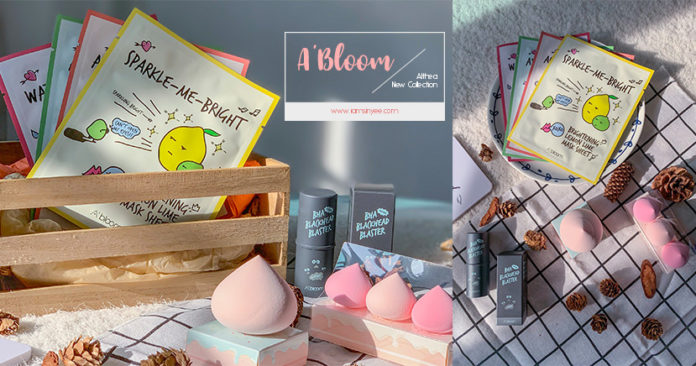 Hola, everyone! It has been a while that I didn't share any K-beauty products~ FYI, I have started a new job since March. So yeah, I am pretty busy and take me time to adjust.  And finally I can start trying out new products, blog about it, share with you all! As one of the Althea's Angel, I do think I am responsible to share Althea's new collection when there is any. Hence, I am now proudly introducing their latest product range — A'bloom.
Althea's A'bloom is the newest in-house brand that Althea has planned. By the photo above, I believe you can't agree more that A'bloom is fun and cute. Besides, it is same like other Althea's series, A'bloom is cost-friendly!
Without further ado, let's check out the products of A'bloom!
Introduce you the first-ever beauty tool from Althea's in-house brand — Meringue Puff. This soft meringue puff comes in 2 sizes: Giant (suitable for faster and larger coverage of skin) and Baby (a set of 3 which you can cover nooks and crannies easier). It is soft, spongy and you can use it in 2 ways; either dry or wet, to create different effect.
Review: 
Honestly speaking, I love these meringue puffs at first sight! It is so cute, especially the Baby~ I can't stop staring at it when I receive the product. When unboxing from its package, the first touch is impressive because it is soft and spongy and feel plush! Compare to other makeup sponge/puff I used before, this is the best ever in term of the contact between the puff and skin. It is really soft and I do not have to worry will I accidentally press too much and hurt my skin.
Meanwhile, it can be used in either dry or wet way. To create a glossy look, soak the puff in water before use. Squeeze out the water and tap your cosmetics using the puff. Use it dry if you want to create a matte look. Hence, you don't have to use different tool in order to create different look. Convenient, isn't it?
Price: RM8 for Giant / RM11 for Baby (3 in 1)
If you are a mask lover, do check out this fresh and fun fruit sheet masks. It comes in 4 different formulas, targeted to suit your skin condition:
Nourishing Avocado : Rich in antioxidants to nourish and protect skin from harmful environmental factors and prevent wrinkles.

Anti-blemish Peach

: Purifies and soothes irritated and sensitive skin.

Moisturising Watermelon

: Keep calm and stay hydrated.
Brightening Lemon Lime : Clarifies and brighten dull skin to unveil the natural glow from within.
Review: 
The mask is made from thin and elastic tencel and every pack contains 25 grams of juicy essence. The smell is refreshing and the essence isn't sticky nor greasy after application. My face takes about 5 minutes to absorb all the essence and I basically feel the different in term of skin texture and smoothness. I would highly recommend to get this mask if you are a person who always use sheet mask. Because it is cheap! It cost only RM2/sheet or RM15 for 10 sheets!
Say goodbye to painful blackhead removal way because BHA Blackhead Blaster is a gentle and non-irritating BHA stick to remove all the blackheads. Simply apply the stick on the blackheads area, it will melt away the impurities and minimise the pores.
Review:
For me, it looks like a lip balm stick. It is handy and convenient to bring anyway. The best part of this BHA Blackhead Blaster is the no pain experience! I believe many use peel off mask to remove blackheads and whiteheads. However, it isn't working everytime if you didn't peel off in the accurate timing. However, this blackhead stick solve the peel off problem by simply apply on targeted area, then massage the area in circular motion about a minute before rinsing off with water. One more thing, it can also be used as elbow/heel scrub.
Price: RM16
All A'bloom series, check ⇒ https://my.althea.kr/exclusive-brands/a-bloom
1st timer, get 20% off on your first purchase.. Register Now!
More info/update, find/follow:
Website: http://my.althea.kr
Facebook: Althea
Instagram: @altheakorea
Youtube: Althea Korea