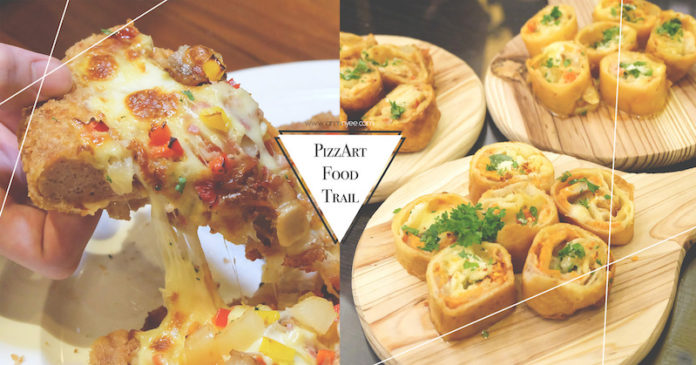 I believe we all know about Anchor Food Professionals for their dairy produces from New Zealand. Ever since they have rebranded in August 2016, Anchor FP have been actively working alongside customers to bring business and product solutions. Not sure if you have heard of their PizzArt campaign last year around June. Anchor FP has created few artisanal pizzas which were available at some participating F&B outlets nationwide. It was a successful campaign and now, Anchor FP has come back with phase 2, which we were invited to join the PizzArt Food Trail at Pizza 185 @ IOI Mall Puchong and The Butcher's Table @ SS2.
The first outlet we went was Pizza 185. A newly opened pizza restaurant at food street IOI Mall Puchong. They serve hearfully delicious seafood pizza. FYI, they made their own pizza dough, and freshly your pizza upon order. Pizza 185 hopes to introduce more different flavours of pizza to the public, and also promote local favorite too. As their main pizza is seafood based, they have chosen to include two PizzArt's creations – Pretzza and Pizza Roll.
Pretzza
A combined creation of preztel and pizza. It looks similar to preztel in its appearance; meanwhile, it is filled with salmon and Anchor cheese. I personally love Pretzza a lot. This pizza doesn't has a crispy base, it is soft like preztel. Isn't this special and great to enjoy with loved one as a main? Oh ya! It comes with dipping sauce too. However, personally think the Pretzza itself is flavorful enough.
Pizza Roll
Have you ever thought that pizza can be in roll instead of slice? Come in 3 flavours – tuna, chicken and otak-otak. Pizza Roll is stuffed with Anchor Shredded Mozzarella Cheese, Anchor Shredded Parmesan Cheese and Anchor Colby and Cheddar Cheese. It could be a perfect snack for any occassion.
Coming next, we headed to The Butcher's Table at SS2. Here you can find crispy roast pork, home-made sausages and house-cured meats, etc. So here we had another two meaty PizzArt's creations that will surprise you.
PizzBurger
Minced meat patty stuffed with cheese, PizzBurger is absolutely great served as a main dish to brigthen up your day. The patty is made by The Butcher's Table, it is first grilled, then baked in light crust.
Ultimeat Pizza
If PizzBurger still couldn't satisfy your meaty craving, go for Ultimeat Pizza! Replace the common pizza base, Ultimeat Pizza is whole meat base! Yes! Totally meat! The meat is deep fried and then baked with mix cheese on top. This is definitely the best ever pizza for the meat lover~
PizzArt campaign has started since December 2017 and will end in June 2018. Pizza lovers and foodies can find these artisanal pizzas nationawide at participating F&B outlets. The list of outlets are:
U Pizzeria @ Subang, Selangor
Pizza House @ Bandar Utama, Selangor
Pizza 185 @ Bandar Puchong Jaya, Selangor
Havana @ Changkat, Bukit Bintang
The Butcher's Table @ Petaling Jaya
US Pizza @ Bayan Lepas & Georgetown, Penang
Mustard Sandwich House and Food & Desire @ Ipoh, Perak
Temasek Hotel Café (Portugese Settlement Hotel) @ Ujong Pasir, Melaka
Hungry Bear @ Bukit Beruang, Melaka
Finale Kitchen Bar @ Segamat Johor Bahru
The Chubs Grill and Mad Ben Café @ Kota Kinabalu, Sabah
Osome Wood Fired Pizza @ Kuching, Sarawak
Chillax Café & Bistro @ Miri, Sarawak
Bistecca & Bistro @ Sibu, Sarawak
Note: You may get a pizza cutter for FREE when you order any of the PizzArt's artisanal pizza at the participating outlets.
More info/update, find/follow:
Facebook: Anchor Dairy Malaysia