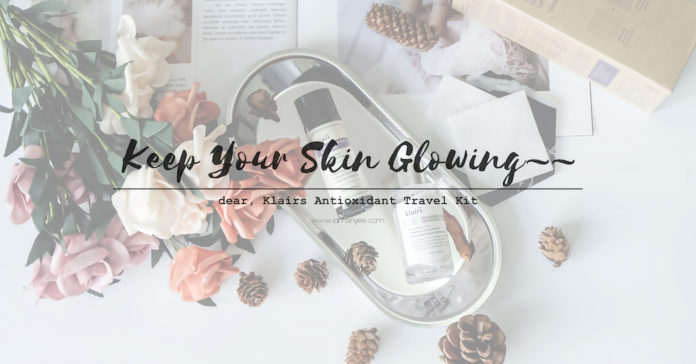 When people hears about "antioxidant", they would always relate it to aging. Because people think only whom has reached the "aging" age needs to use antioxidant product. However, this is not true. We should always starts to prevent. In addition, antioxidant plays a role to protect our skin from free radical, in order to reduce the sign of aging. Besides, it also helps from calming inflammed skin, tightening and toning. Hence, antioxidant product should be one of the main beauty products in our daily routine. Today, I am going to share my two cents of dear, Klairs antioxidant travel pack.
dear, Klairs is never a new brand to me. I have been using the brown sugar scrub since 2014. I really like gentleness of its. I have done a review on its scrub too, you may check it here.
Packed with pure vitamin C extract, dear, Klairs Freshly Juiced Vitamin Drop effectively brightens the skin from within, ensuring you're left with a radiant complexion without the irritation. It also comes with 5% ascorbic acid to lightly exfoliate away dead skin cell buildup, evening out the skin's texture. The result? Smooth, bright skin that's ready to take on the world! — Althea
It is a concentrate containing pure Vitamin C that helps to calm your skin. Further, it helps rough cells and widened pores. And the best part is, this multi solution serum is suitable for sensitive skin!
How to use?
Apply suitable amount and spread evenly on skin. Gently massage/tap it for absorption as this is not absorbing texture.
Review:
For sensitive skin user, I personally suggest try little amount on your less sensitive part first before you apply on the entire face. Even though this serum is claimed as gentle concentrate that is suitable for sensitive skin, it is still stingy at the first place when applying it. I feel the heat and stinginess during my first time application. Or, you may also use it only at night so you won't over-stimulate your skin.
Of course, you aren't directly applying the serum without toning your skin. You may check out dear, Klairs Supple Preparation Facial Toner. It gives the skin a boost of hydration and balances out skin's pH value.
Just gently apply few drops on face or I personally love putting toner on cotton pads so I can pat it evenly on my face.
I am here recommending dear, Klairs Toner Mate 2 in 1 Cotton Pad. It is a compressed cotton pad of two – lessen the toner, higher the moisture. This cotton pad doesn't absorb the toner, instead, it holds the toner and fill skin to absorb.
Tried to squeeze the toner out from the cotton pad, and yes, it works. So yeah~ Finally a cotton pad that you don't have to worry it "drinks" your toner. LOL
Overall, it is important to start using antioxidant product before you are actully facing aging issue. dear, Klairs Freshly Juiced Vitamin Drop helps keeping skin glowy. However, you must be very careful when using it; especially for sensitive skin. Although it is claimed gentle, I still think that for whom has sensitive skin issue like me should only use very little amount so you won't accidentally hurt your skin. Having said so, it doesn't mean this serum doesn't do a great job to protect us from free radical. I still love it much. My skin is much brighter compare to previous. If you are looking for antioxidant concentrate, do check this out!
It is available on Althea, the No. 1 K-beauty online store worldwide. Check the product at https://my.althea.kr/brands/all/dear-klairs
More info/update, find/follow:
Website: http://my.althea.kr
Facebook: Althea
Instagram: @altheakorea
Youtube: Althea Korea