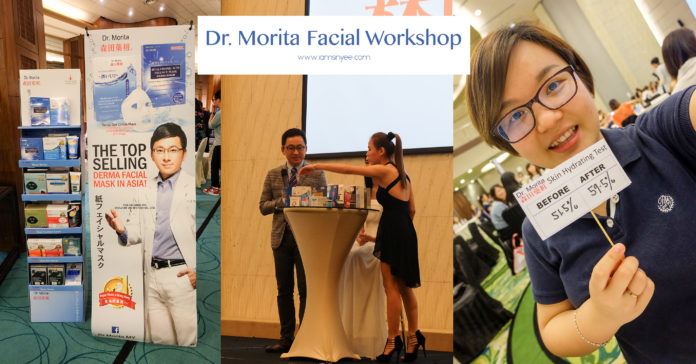 I believe a lot of people, especially girls out there love mask a lot. You can't spend time and  money to go for facial treatment, but you can buy facial mask to rejuvenate your skin easily. Dr. Morita is my favourite mask brand, and I was so glad to be invited to join their facial workshop "A Dr. Morita facial mask a day, keeps your ageing away" few weeks ago. Well, I would say this is a mask party, which all the guests had a chance to meet Dr. Jou, Chief Research Consultant of Dr. Morita in person. Of course, we learned the basic skincare tips from Dr. Jou too.
Dr. Morita is the No. 1 Best Selling facial mask in Asian countries, such as Taiwan, Hong Kong, Malaysia, Singapore and Taiwan. They specialize in facial masks using medical-grade natural  ingredients to pamper and nourish consumer's facial skin. Dr. Morita isn't newbie in the industry, this brand has been around more than 83 years and is known as one of the pioneers in facial masks!
I have done a mask review of Dr. Morita last year, when they officially launched in Malaysia. Do check it out here: www.iamsinyee.com/review-dr-morita-facial-mask
We all know about the basic skincare routine: cleanse-tone-moisture. However, do you know if these products you applied on face are fully absorbed? During the workshop, Dr. Jou had given us an answer — No! (Whattttt???!!). According to Dr. Jou's explanation, our skin isn't fast enough to absorb before the product is evaporated. Hence, when applying the product, do know that only half the amount is being absorbed. Kind of waste, isn't it?
In order to let our skin absorb all the good ingredients, a facial mask is the best! Because it  will stay on your skin for 10-15 minutes, which gives enough time for your facial skin to grab all the essence.
Note: It is advisable not to apply a mask more than 15 minutes, it may not help to moisturize your skin. In fact, it will pull away the moisturizing element from your skin.
There is a say that we should only apply mask less than 3 times a week. Yet, Dr. Jou suggested to do it in a daily basis. By doing so, it will get us the visible result we desire. With Dr. Morita mask, everyone can preserve your skin and keep it looking young easily.
During the worskhop, Dr. Jou also introduced the latest line up of products, as well as highlighted the best selling one.
I personally have tried Hyaluronic Acid Moisture Essence Facial Mask, which has 3 differing HA molecules for varoius penetration to provide excellent hydration. I find my face is so much hydrated after 15-min mask application. Below is my before-after skin hydration comparison. My test didn't have huge different; however, there are people who improve from 38% to 50% or more.
As concluded by Dr. Jou at the workshop, "There is no reason not to begin your youth preservation today." So, girls and boys, start preserving your youthful looking now with Dr. Morita products. You can find Dr. Morita complete product range at Aeon, Caring, Guardian, Sasa and Watsons nationwide.
For more info/update, find/follow:
Facebook: Dr. Morita MY
Instagram: @dr.moritamy