If you are a papa mama of furry kid (I mean dog/cat), you are invited to tag along your babies to join My Pets Carnival 2017~ This will be a memorable weekend carnival for you and your pets. Well, I am also urging those who are planning to own a pet dog or cat, you should join this carnival too!
Brought to you by I Tiara Production Sdn Bhd, My Pets Carnival 2017 is an extraordinary pets show that will make a dent in the world of pet lovers. It aims to introduce a transformational platform for the pets industries in Malaysia. Raising the awareness of having a pet to everyone in this country. Besides, the carnival provides activities such as camping to create the ultimate bonding time for you and your pets.
FYI, My Pets Carnival 2017 is set to be held from 29 Sep till 1 Oct 2017, at One Central Park @ 1 Utama Shopping Center! Nah…. Informed you one month ahead, block your date now for your pets! No excuse, ok?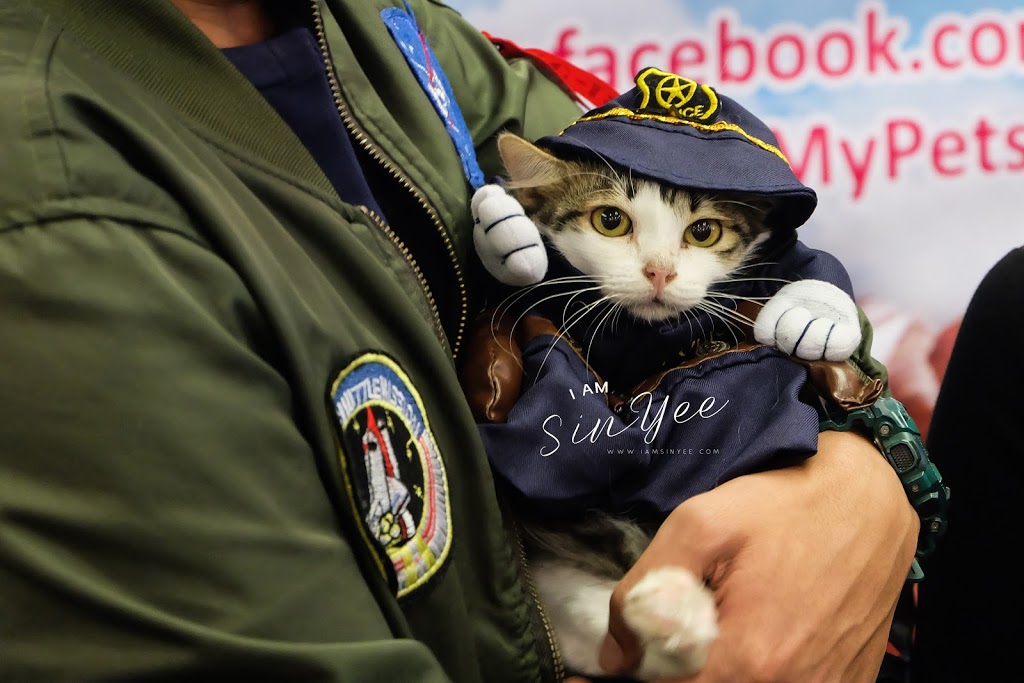 I was invited to attend the media conference few days ago. During the conference, the carnival's founder, Ms Irene Tan has announced that our Malaysian celebrities, Mr Hafiz Bahari and Mr Johnson Low, as well as the petite beauty queen Ms Subashini Ravichandreni are appointed as the official ambassadors of My Pets Carnival 2017. Further, Ms Irene Tan also announced the collaborating partners and sponsors of the carnival which are 1 Utama, Taro Chats, Pets Lover Center, 88 Pets Mart and Baddogz Jin Studio.

From left to right: Mr Johnson Low, Mr Hafiz, Ms Irene Tan and Ms Subashini
Do expect My Pets Carnival is different from the pet expo you have attended before. This is more like an event that you are going to enjoy the happiness with your furry kids, instead of a place to buy pet products for your pets only. So far, there are 11 new and exciting activities are confirmed (there are more…):
1. The 70 Meters x 6 Meters Water Slide: First in Malaysia among common pet shows, intended to introduce an innovative, adventurous and tremendous fun for furry kids and their owners, under a safe and controlled environment.
2. Swimming Pool: Best place to chill during a sunny day. Owners can get dip with cats and dogs in the pool. Life jackets are available for rent. Separate pools for dogs and cats.
3. Costume Parade and Contest: Dress up in the same theme, color or any form of matching costumes with your pets. Stand a chance to win prizes!
4. Catwalk Show by Miss Malaysia Petite Spokesperson: Witness how much beautiful petite women love their furry kids. As they will be appearing on the stage as they perform their catwalk, or their walk-with-cat.
5. Hammock Area!: For the adventurous pets~ Free ride to watch skies together.
6. Camp with Your Pets: Will be on 30 Sep and 1 Oct. Choose to camp overnight under the stars in a tent with your pets. You can go kayaking with your furry kids on the lake too.
7. Adoption Drive: My Pets Carnival will devote a large part of its booths to NGOs in support of non-profitable groups who are involved in general animal's welfare. The organizer hopes to bring betterment for the stray issues through these stands.
8. LED Lighting: Share with your pets what LED has to offet at night, it might not be new to you but it certainly will be for your furry kids.
9. Magic Shows, Children Colouring Contest and Games: Think of it like a fun fair for family. So, a fun fair that your pet can involve? How great is it? There will also be lucky draw with prizes comprising a pet products for your pets to enjoy.
10. Inflatable Balloom, Backdrop/Photo Wall and Welcome Tent: Custom-made items to decorate the Carnival in the park. Never let go of these photo opportunitiessssss!
11. Flea Market, Food Truck and Food Stalls: Beside than Pets booth or pet items for sales, there are other too. Immerse yourself in and shop all the way from your furry kids' item to human products.
So how much is the entrance fee? It's FREE!!!! Just come and enjoy~~~ Again, block your date — 29 Sep to 1 Oct 2017 for your furry kids! See you and your furry kids there!
More info/updates, find/follow: