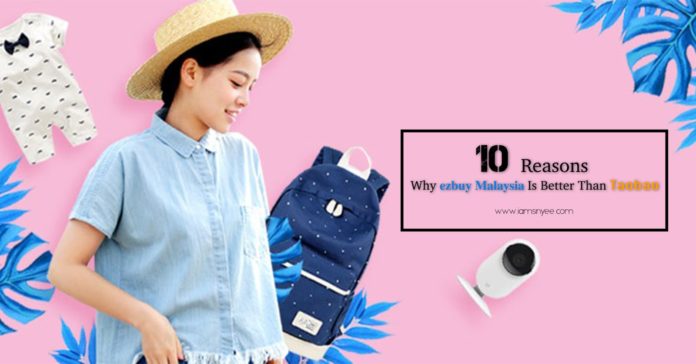 16 Nov 2017: Received quite numbers of reader comment/complained about ezbuy. I would like to declared that the following are based on my personal experience on Oct 2016. I have not been using their service more than half years till now. Hence, I couldn't comment/feedback on their service now. Thank you.
I believe frequent online shoppers will definitely know about Taobao. If you are my loyal reader, I am sure you know that I am a Taobao shopper since 5 years ago. I used to buy my own items and arrange shipment myself over these years. However, recently, I have no longer purchase directly from Taobao. Instead, I am now in love with ezbuy Malaysia. 
ezbuy Malaysia is a dedicated provider of professional online shopping services. As of today, ezbuy provides shopping service from China, Taiwan, USA for Singaporean, Malaysian, Australians and Thai people. 
There are wide varieties of products that shoppers can grab from ezbuy. For example, clothing, toys, accessories, beauty products, mobiles and tablets accessories, etc.
Basically, for me, ezbuy Malaysia is totally providing the same shopping experience Iike Taobao. So, why I choose ezbuy Malaysia now but not Taobao? Here are 10 reasons based on my own experience!
1. Language
As known, Taobao is the largest China online selling platform. The default language is Chinese. Meaning that, shoppers must understand Chinese in order to purchase items on Taobao. Even though Taobao provides translation, it is powered by Google Translate. Well, I don't have to explain much, you should know how "good" is the translation. 
On the other hand, ezbuy Malaysia is Malaysia-based website, it has Chinese, English and Malay. This is absolutely awesome for people who do not understand Chinese to purchase products from Taobao. 
2. Currency
Again, Taobao is China-based website. The currency is Chinese Yuan (RMB). Hence, for Malaysian, the price you see isn't the price you pay if you purchase directly on Taobao. I still remember I always have my calculator with me when purchasing on Taobao because I have to do the currency conversion myself in order to know the price I need to pay.
Nonetheless, with ezbuy Malaysia, it is hassle-free. The price is in Malaysia Ringgit (MYR). In addition, ezbuy does not charge any agent fee!! You pay what you see. Say goodbye to calculator~ 
3. Payment Method
The main payment method on Taobao is AliPay. Alternatively, you can pay directly from online banking or credit card. I would say the payment method is now much convenient than previous. However, due to currency conversion, paid via online banking or credit card is expensive! I would rather buying the ready stock in Malaysia, instead of buying it on Taobao. Also, if the product is out of stock, the refund process is troublesome too! Hence, I still choose to use AliPay when I shop directly from Taobao. Again, I have to undergo a lot of process – find top up sellers, compare currency rate, bank in the exact amount I want to top up (some even set a minimum amount), wait for hours for top up, pay to Taobao sellers. Trust me, this is a long process.
Although ezbuy Malaysia requires shopper to top up into e-wallet too, once I bank-in or internet transfer, ezbuy only takes a very short period of time to do the top up. Additionally, ezbuy will automatically help to pay the outstanding balance to proceed purchasing products. 
4. Account Registration
Believe it or not, the account registration of Taobao is another frustrating process!! Although it is much easier compared to few years ago when I did, it still needs verification, passport number (what if I don't have a passport??), etc.; and sometimes, if you don't understand the process, requesting help from the customer service is a disaster too. 
ezbuy Malaysia's registration is much convenient. Choose to Facebook login is the faster way. Then, add your address will do. 
5. Courier/Delivery Services
There are few methods to send the items from China to Malaysia. First, the Taobao seller provides international delivery via EMS. Second, choose to use Taobao's parcel resemble delivery. Third, find a forwarder from China or Malaysia yourself, then request Taobao seller to send your parcel to the local China warehouse (which your forwarder provided), arrange the shipment yourself when all your parcels reach the warehouse. I personally never use the first two methods, but only do the shipment arrangement myself. You would have to keep in touch with the agent, always requests update. And, this is not the end. When the parcel is sent to me by our local courier service, most are by ABX or Skynet. Well, guess I don't have to say much about their service. You know it!
Then, I start using ezbuy Malaysia. What I need to do after placing my order is sit down and wait. ezbuy will send notifications to my phone (Yes, ezbuy has app!), telling me the parcel status. I can easily track where is it. And also, I can choose to pick up my parcel or let them send to my doorstep. I will always receive a call from them before they send me my parcel. 
6. Shipping Fee
Purchasing directly from Taobao, the international shipping is normally RM10 and above per kilogram (according to my personal experience). It is expensive; especially if you only purchase a small items, it is cheap in the beginning, but you will probably experience the shipping fee is higher than the item.  #facepalm
Guess what? ezbuy Malaysia has the lowest international shipping fee, start from RM4.50/500g.
Meanwhile, they have a PRIME section. FYI, Ezbuy Prime is a subscribed membership programme exclusive to ezbuy existing customers. This programme enables subscribers to enjoy unlimited parcel being shipped from oversea to your doorstep with only RM8.80 nett per checkout for Prime eligible items. Besides, Prime member can also enjoy lowest 4% agent fee for Prime eligible items.
7. Customer Services
This is related to the first point – language. You can contact Taobao sellers via Ali Wang Wang. Nevertheless, almost all of them can only communicate in Chinese. Again, if you do not know Chinese, it is difficult to talk to them. ezbuy's customer service is responsive. They might not able to answer your question at the first place, but they can help to contact the Taobao sellers and clear your doubt.
8. Sensitive Items
Sensitive items includes electronic products, food, etc. Sometimes, we want to buy a phone, dry food, etc. from Taobao. However, some items will be banned if you ship it yourself. However, by using ezbuy Malaysia, you can purchase these.
9. After-Sales Service
Have you ever encountered any problem? For example, wrong size or color, product damaged or even missing during delivery. Then, who should you talk to? The seller, of course. If you buy from Taobao directly, some sellers are good enough to replace the items; however, some will ignore you or treat you impolitely. If you purchase from ezbuy Malaysia, you will have after-sale support for wrong order, damaged parcel and missing parcel.
10. Reliability
I personally experienced unreliable forwarder when I have just started to purchase Taobao myself. And also, I have read across a lot of cheat cases which the AliPay top up agent doesn't help to top up after the customer bank in. I always need to bear the risk myself. However, ezbuy Malaysia is a reliable website, which has accumulated much goodwill, I can totally trust on them when purchasing online. 
So, why shop in Taobao if ezbuy Malaysia provides better service?
Okay. One more reason for you to shop at ezbuy Malaysia… For all readers, 
2. Insert code "

ezshp15

" to enjoy 15% off on shipping fee!
I can't find a reason why you stop yourself to experience ezbuy Malaysia. Let's start shopping~~
For more information/update, find/follow:
Instagram: @ezbuy.my